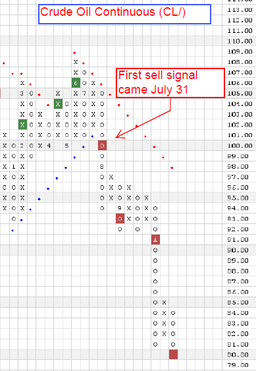 Barely a day goes by that there isn't a headline story of sorts related to Oil and it's recent decline.  Rather than focus on any of these stories or prognostications, we always rely on the PnF chart to tell us what the real story is for Oil.

As you can see from the chart, Oil has been in a downtrend since the end of July this year.  With multiple sell signals, the latest Nov. 3, Crude Oil continues to show weakness with no signs of reversal at this stage.

First buy signal would come on a reversal up to $86.

If you have any questions, please contact us.

Remember, these are technical comments only.