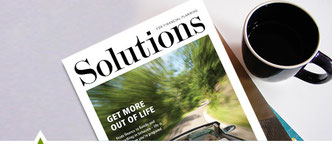 With the change of seasons, many of us are motivated to make changes in our lives and take the opportunity to start fresh.  This time of change is a perfect opportunity to reevaluate your finances and set yourself up for success for the rest of the year and beyond.

The latest edition of Solutions magazine has strategies to help manage your debt and live within your means.  Some of the featured articles include:

Get more out of life explores how universal life insurance can not only help you protect your loved ones, but also capitalize on tax-advantaged investing.

Commitment and compromise: achieve your retirement goals profiles a couple who encountered a roadblock on their path to retirement and the steps they took to refocus and set themselves up for success.

Cents and sensibility looks at strategies to help you live within your means.  No matter what your income, it's critical to ensure you are managing monthly expenses, prioritizing your savings and making the most of your money.

If you have any questions about your own personal finances or want to explore a topic further, let's talk.